Fuel System Schematic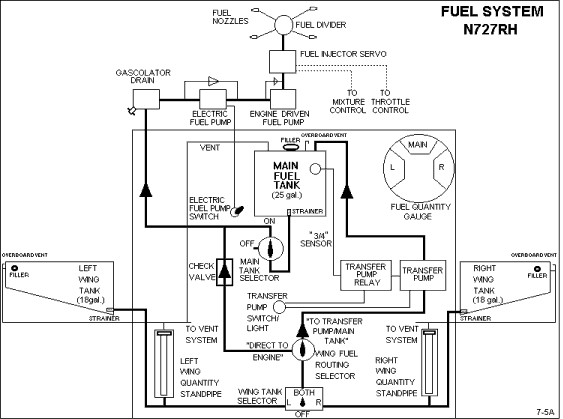 Photo of fuel panel
ELECTRICAL SYSTEM
Electrical power is supplied by a 12 volt, direct current system. The system includes a
12 volt 45 ampere alternator, regulator and 35 ampere hour battery to produce electrical power.
The battery is located in a sealed box aft of the baggage compartment. On the right side of the
fuselage near the battery is an external power receptacle enabling the use of an automotive
battery or external battery charger assist for starting or charging. The aircraft Master
Switch must be on for the external power relay to be energized to provide power to the aircraft
battery and electrical system.
A dual volt / amp meter indicates system performance. The gauge is designed so that
normal operation is indicated with both needles at or above level. Charging is indicated by a
positive ammeter reading and a voltage between 13 and 14.5 volts.
The split BAT / ALT Master switch "BAT" side energizes the master solenoid to provide
power to the main bus and lower row of circuit breakers. The "ALT" side of the switch energizes
the alternator field turning the alternator on to enable it to recharge the battery. The AVIONICS
MASTER switch / circuit breaker energizes the upper row of circuit breakers providing power to
the avionics. This switch is normally off for engine start. The engine starter solenoid is
located near the base of the copilot's control stick and is activated by the magneto key switch.
The circuit breakers automatically break the electrical circuit if an overload should
occur. To reset the circuit breaker simply push in the reset button. It may be necessary to
allow approximately two minutes for cooling before resetting a circuit breaker. Corrective
action should be taken in the event of continual circuit breaker popping or a circuit breaker
that will not stay reset. It is possible to manually trip a breaker by pulling out on the reset
button.

The alternator is an Air-Tec (Hitachi) Model AM-0053R 45 amp.
The regulator is a V1200 voltage regulator with overvoltage protection,
also from Air-Tec Inc. Orlando, FL (800) 366-4746. Owner: Dick Waters.


Electrical System Schematic
Current schematic with alternator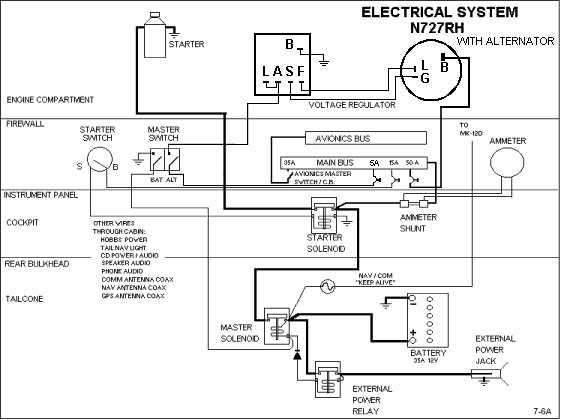 Former schematic with generator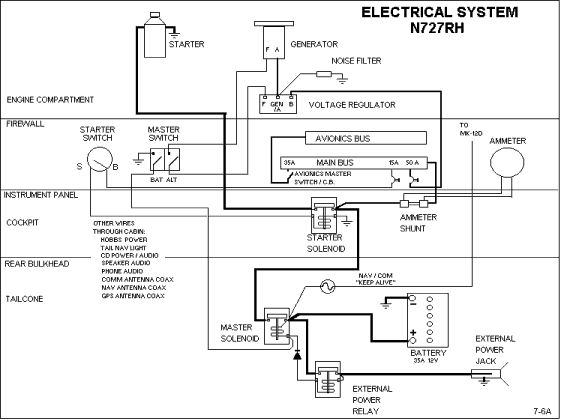 VACUUM SYSTEM
Suction for the vacuum operated gyro instruments - the attitude indicator and the
heading indicator is supplied by an engine driven vacuum pump. Air is drawn into the central
air filter located behind the airspeed indicator, drawn through the two instruments, through an
adjustable vacuum regulator located on the firewall forward of the copilot's rudder pedals to
the vacuum pump. Suction is indicated on the suction gauge located immediately beneath the
vacuum operated instruments. Normal operating range is 4.8 to 5.1 inches of mercury.


Vacuum System Schematic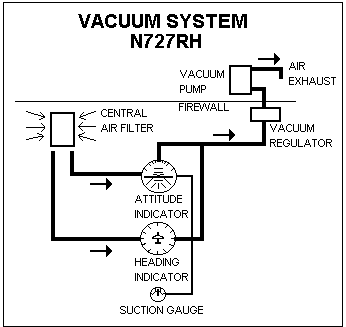 PITOT and STATIC SYSTEM
Static air and pitot pressure are supplied by the heated pitot head under the left wing.
Pitot pressure is provided to the airspeed indicator and static pressure is provided to the
airspeed indicator, vertical speed indicator and encoding altimeter.


Pitot / Static System Schematic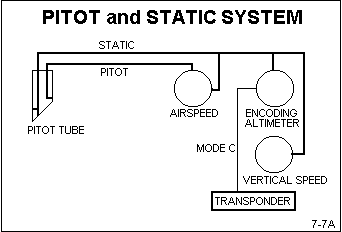 ---
[ HOME PAGE ]
[ CONTACT ]
[ LESSONS LEARNED ]
[ FREQUENT QUESTIONS ]