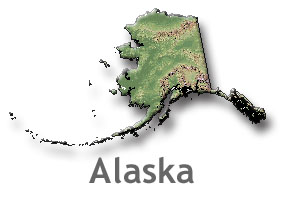 Flight to Alaska Journal
by Mustang II Experimental Airplane - N727RH
Copyright © 2002 Rick Henry All rights reserved


Updated March 25, 2004
WARNING: Proper flight planning and preparation is required for all flights to and in Alaska.
Attempting to fly this route or duplicate this trip would obviously be AT YOUR OWN RISK.

Slew down to [ Year 2002 ] [ Departure ] [ Return ] sections below
Go to [ ALASKA Main ] [ Flight to Alaska ] [ Mt. McKinley ]
[ Return home ] [ ROUTE ] [ EQUIPMENT ]


Journal

First Visits
1981 - "Mental snapshots"
- First trip to Alaska. Flew on KAL 007 JFK-ANC. (Flight number would become well-known a couple years later.)
- Linda was six months pregnant with our first child. She was quite adventurous, eh?
- Our first glimpse and impression was peering out from the 747 on descent into Anchorage in the dim, 2 AM twilight and seeing the tremendous snow-covered mountains with mile-wide black-ribboned glaciers weaving down between them.
- Anchorage was beautiful, and [unusually] clear for a week.
- Seeing Mt. McKinley over 100 miles away was very impressionable on east-coast USA kids like us.
- The almost-endless daylight was intriguing, fun, disorienting and fatiguing all at the same time.

Barrow

- To Barrow on Wein Air Alaska. We were wondering if the baby's birth certificate was going to say "Born on a Wein B-737 somewhere between Fairbanks and Barrow..."
- Got to ride in the cockpit jumpseat to Barrow. Having done virtually all of my flying in the congested northeast corridor of the US, I was quite impressed with the ATC clearance: "Cleared to cruise, Flight Level 310". (This meant that all airspace between us and the destination airport 100 miles ahead was clear of any instrument traffic, and we were cleared to descend and do any approach.)

Impressions:
- Definitely the most unusual place in the US that we'd ever experienced. Mud everywhere, gravel roads. Snow piled up, even in mid-June. Watched the sun pass through the north sky at midnight for the first time.
- At 2 am, while sleeping in a room with the windows covered in aluminum foil, we heard a gunshot close-by and then "He's dead! He's dead!..." We found out later that a dog was the victim. Although a 'dry' town [in theory...], there was a distinct feel of "the Wild West".
- Most houses were built from container ship packing crate wood. Most 'toilets' consisted of 'honey buckets' that were tossed out the back doors. Mud everywhere.
- A gallon of milk was $7, a small turkey: $38; tap water cost 7 cents per gallon.
- A small dish of ice cream was $1.00, a huge cone was just 50 cents. Why? "It costs money to wash the dish..."
- Walked on the 'beach' along the Arctic Ocean - still ice encrusted.
- The Mexican restaurant "Tacos on the Tundra" with its genuine Mexican tile and lively music was a welcome oasis.
- Later, while reading "Going to Extremes", I nodded my head in agreement the entire time in the chapter about Barrow.
- Otherwise, indescribable. Except: Mud everywhere.

1993-1995

- Numerous trips to Anchorage as First Officer on the MD-11.
- Fell in love with the spectacular scenery on descents and climb outs east of Anchorage over the Chugach mountains and further east over the Prince William Sound and the Wrangell St. Elias National Park & Preserve. The huge glaciers and ice fields seem to extend forever, and will consume any amount of film that you might have.
- Received some float flying recurrency dual out of Lake Hood, taildragger recurrency and dual on mountain / bush / rough field flying while on layovers.
- Early September brings the most spectacular change of color - the birch trees turn a beautiful yellow, combined with the spruce evergreens and snow settling on the higher elevations, there is a wonderful mixture of color. My vote is that mid September is the most picturesque in Anchorage.
- Renting a bicycle and enjoying the numerous city bike trails became a pleasant routine.
- As winter settled in, I found the scenery and multi-pink colors during twilight on the snow-covered mountains just beautiful. Even during the days of longer darkness, the additional brightness from reflections off of the snow made everything cheerier than I'd envisioned.
- Bringing winter hiking gear, I'd enjoy walking several miles a day in the snow. Merrill field with it's innumerable taildraggers was a favorite destination.
- Displays of the Northern Lights lasted for hours on the night flights to and from Anchorage.
- On many occasions they were either overhead or even south of our position. It was pretty neat flying on a northwest heading, seeing them in the distance, then an hour or two later being under them for an hour or two, then seeing them "move" to the south as we flew further north and west, shimmering and slowly changing shapes and colors the entire time. Over northwestern Canada, with no lights of civilization below to obscure the intensity, it was almost a religious experience.

First Light Airplane Trip Planned
Spring, 1995

- We'd planned to take the family from Tennessee to Alaska in our Twin Comanche June of 1995, but a tornado severely damaged it in May, 1995, just weeks before our trip, dashing those plans.
- The four of us took the airlines instead. (Linda says that I pouted most of the way.)
- We flew in a rented C-172 east of Anchorage over the Chugach Mountains, the Eagle and Knik glaciers, enjoying the tremendous views not visible from Anchorage or an airliner's windows.
- The kids having to get out of the pool and get ready for bed "ALREADY Dad?" at 11 PM, (when it appeared like late afternoon) still gets talked about now that the boys are older.
- On July 4th, Tim, at age 13, caught a 43-pound King Salmon (bigger than his little brother!) which decorates our living room wall today.
- We had intended to watch the fireworks display at 2 AM (at darkest twilight), but dad fell asleep without setting an alarm - and has been reminded about that every year since.

2000

- Another visit to Anchorage via the airlines. Rented a C-172 again and flew the Tokositna Glacier up the south side of Mt. McKinley, through the Don Sheldon Amphitheater and Great Gorge and down the Ruth Glacier. A spectacular flight, although the 12,000 foot overcast prevented seeing the upper half of the mountain that day.
- A brief stop at Talkeetna let us mingle with the bustling activity of climbers and wheel-ski plane pilots flying to and from The Mountain.
- The skies cleared the day of the Phillips 26 Glacier Tour - on the most spotless catamaran you'll ever see. Another film-gobbling, words-can't-describe-it experience of pulling right up to aqua-blue glaciers and watching / hearing / feeling them calving into Prince William Sound.

---
2002
Flying to Alaska by Mustang II Experimental Airplane
May 30, 2002 -
- First 'on the fly' journal entry [not sure how this will work with all the other priorities...]
- Will fill in earlier preparations prior to this date as time allows.
- Decided to not take the Bear Repellant spray in the airplane - too dangerous.
- Steve Crocker loaned me his shotgun and gave me some recurrency 'dual'. Much safer and probably more effective as bear repellant. It just fit, wedged between the firewall, right of the copilot rudder pedals, along the sidewall by the right seat. No interference.
- Back to packing...

May 31, 2002
- Called a few airports along route confirming that camping is available.
- Finished packing camping, survival gear, food
- Determined(?) that my "AT&T WorldNet" laptop ISP won't work from Canada. So much for updates while there.
- Studied the Canada Flight Supplement. Very good reference.

June 1, 2002
- Looked at Aviation Weather charts and forecasts for Canada, Alaska. On http://aawu.arh.noaa.gov/outlook.php, slew down to " NCEP Extended Outlook North American Surface Maps: Day 3, Day 4, Day 5" for good color forecast maps for all of North America.

June 2, 2002
- Satisfaction then Disappointment.
- Packed the airplane. Made a "Copilot foot area baggage compartment" from a plastic milk crate. This gave an extra cubic foot of usable room. Of course checked rudder cables and rudder / brake pedal clearance - all OK. Was pleased, and a bit surprised that everything except the cot fit . (OK, I'll 'rough it'). Weighed each of the many bags and noted where they were packed. At home did the Weight & Balance... That's when disappointment set in - (18 hours prior to departure)... My "eyeball estimates" didn't match the Excel W&B spreadsheet. Major shift in plans as well as CG are now required. I really thought that just bulk was going to be the issue, but the aft CG is.
- Had to make a decision whether to toss some of the gear, or even if camping at all was going to work. Removed several items such as the water jug, spare tire / tube and tailwheel, jumper cables and oil; and designated some of the main tank fuel as "ballast" to put the Zero Fuel CG at the aft limit. This worked, but made me carry up to 10 gallons of main tank fuel as unusable, and only 4 hours endurance total. Not what I'd planned. Tried multiple shifts of the heavy items forward which eliminated the "ballast fuel" requirement.
- To see if this spreadsheet loading would even work, (tools, survival gear and tiedowns all need to go into the new forward "crate baggage compartment"), will require another trip to the airport [tomorrow]. If this doesn't work, then camping is out and it'll have to be the usual motel routine.
- As of now, I'm hoping to launch Tuesday morning, June 4th.
- Watching the weather along the Nebraska / Iowa area, which will probably become an additional challenge for tomorrow.

June 3
Departure Day - Tennessee to Iowa

- Went to airport to try and fit the gear to stay within CG limits. Removed several items that I was hoping to carry, but came up with an acceptable load that still included all necessities plus most camping gear.
- Weather in the upper Midwest had a break in it, so made the decision to go and filed for Topeka, KS.
- Was airborne just after 3:30. Finally on the way to Alaska!
- Flew IFR all three legs. Stopped in Topeka, KS; then Omaha, NE; then filed for Le Mars, IA since camping was available there.
- Sioux City Approach Control vectored me for the VOR / DME 36 at Le Mars, and the AWOS was calling a ceiling of 1,300' Overcast. The approach had an 800' AGL Minimum Descent Altitude, so it should have been no problem. Sunset was right at 9 PM as I was on the approach at MDA, still in the clouds - nothing in sight. Bummer! Missed approach and diverted back to Sioux City. There it was also calling a 1,100 ceiling, but the full ILS made it no problem. Circled out of the ILS to land on 35.
- The forecast called for a chance of thunderstorms, so had the airplane put in the hangar.
- Below are the times for today:

From
To
Flight
Block
Airway
N. Miles
KOLV
KTOP
2+33
2+44
379
KTOP
KOMA
0+57
1+10
149
KOMA
KSUX
1+02
(Including missed
approach at Le Mars)
1+14
70
Total for day
4+32
5+08
598


June 4 - Iowa to Saskatchewan

- Pouring rain in the morning at Sioux City.
- Mustang builder Bruce Atherton came out to the airport to see the plane.
- There was a 600' ceiling at Worthington, MN; the next planned stop, but it had an ILS, so I filed and was off about 12:45 PM.
- Shot an actual ILS 'on my own' (with procedure turn) at Worthington, MN. Ceiling was up to about 1,000' with winds out of the north at 12 knots, so circled to runway 35.
- No one in sight. Took a picture, started up again and called FSS to pick up a clearance to Aberdeen, SD.
- Weather cleared just as I crossed into SD. Landed at ABR for lunch.
- IFR to Minot, ND. In and out of a few showers enroute, beneath the cloud bases most of the time. Fairly turbulent.
- At MOT, filed an IFR flight plan to Regina, Saskatchewan and called Canadian Customs (1-888-CAN-PASS) to advise of the ETA.
- [Regina is pronounced 'Rej-EYE-na', the 'i' is long.]
- Off of Minot at 5:45. There are no airways between MOT and Regina. The clearance was: "Maintain heading 300 degrees for direct Regina" (194 miles away!).
- At the US / Canadian border Minneapolis Center said: "Radar service terminated, contact Winnipeg Center when 70 miles southeast of Regina." Felt a little bit like 'Lost in Space' for 20 minutes or so.
- "Radar Identified" was the term used by Winnipeg Center.
- Visual approach to 26. Beautiful evening.
- Most of the videos and books about flying to Alaska refer to clearing into Canada at Lethbridge, but from most of the eastern half of the US, the Great Circle route to Northway, AK (where you normally need to enter in a light plane) is further east than you might think. From Memphis, it enters Canada in southern Saskatchewan and passes just about over Regina, Saskatoon and Edmonton.
- Canadian Customs folks are very friendly and courteous. They do take a special interest in firearms, and I of course declared and registered the shotgun that I had with me. There is a $50 CDN fee for this, and they carefully inspected the gun, taking the serial number, measuring the barrel length, etc. In addition to the firearm registration form, I was given a CAN-PASS number (on a Post-It Note) as my proof of having cleared Customs. No longer do they issue tourist cards that previously had to be posted in the airplane window.
- Regina is a nice, modern, clean town. Helpful, friendly FBO. Stayed at the West Harvest Inn and enjoyed the 'Earl's' restaurant across the street. So far, I highly recommend this stop.



From
To
Flight
Block
Airway
N. Miles
KSUX
KOTG
0+52
1+05
85
KOTG
KABR
1+13
1+23
178
KABR
KMOT
1+28
1+42
218
KMOT
CYQR
1+16
1+29
194
Total for day
4+49
5+39
675
Total for trip
9+21
10+47
1273


June 5 - Saskatchewan to British Columbia

- Departed Regina for Edmonton City Centre Airport. - Great weather in the Regina area but got into moderate turbulence west of Saskatoon. IFR at 8,000'. Climbed to 14,000' (on oxygen) trying to get out of the turbulence, but just made things worse since I was in and out of the cumulus and starting to get a little ice. Began a descent into the Edmonton Terminal area.
- A Medi-Vac flight was behind me for the airport, so I got vectored around and came in behind him.
- There were significant thunderstorms west of Edmonton moving northeast cutting me off from continuing. Secured the plane, expecting to spend the night and got a late lunch.
- By 4 PM, the cells had moved through fairly quickly, so filed IFR to Ft. St. John, about 2 1/2 hours away.
- Was in the clear the entire flight, but the turbulence from the Low that was moving through western Alberta was bone-jarring for almost the entire flight. Again, I said to myself: "This would not have been a good 'Linda Flight' "....
- I couldn't help but keep inspecting the sheet metal and rivets of my wings out there... "You did a good job of riveting [my son] Tim..."
- Slowing to a more tolerable speed extended my ETA, but made things much more bearable.
- The scenery was getting wilderness-like, with mostly trees for as far as you could see. Visibility must have been between 70 and 100 miles. In the distance I could see just the tops of cumulus clouds that were so far away, the lower parts were below the horizon.
- There were blocks of two distinct tree colors - very dark green and very light green. (Spruce and Birch?) Interesting 'patchwork' of nature.
- Here is a Flight Tracker image my wife captured: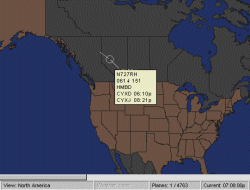 Click for larger image

(17 KB)
- It was about here that I looked back through the canopy, and way back in the excellent visibility I saw the area I had seen far in the distance over a half hour earlier. A strange realization struck me. I then visualized how many of these huge stretches of real estate - I'll call them "Blocks of Visibility" of about 50 nautical miles in each direction that I'd flown in my homebuilt airplane. Not just today (about 10 "Blocks"), or on this trip (about 20), but in that same direction southeast, about 3,000 miles back, (30 "Blocks") is Mayaguana, where I was last year. For the first time, it sunk in, and I could actually see how far FAR is.
- The fun of seeing that somewhat overshadowed the turbulence.
- Ft. St. John weather on arrival was "Few at 500', Broken at 1,500' (and more layers above). Again, in a non-radar environment, called Fort St. John Radio and started an ILS to 29. Got the field in sight quite far out - the 'broken' was really a 100% coverage just north and west of the field, but was relatively clear to the southeast.
- Landed on 20. Parked at Shell.
- Phil, the lineman was very accomodating, and I set up camp for the night, right next to the Flight Service Station.
- I checked the weather there to see what to expect for the night, and a temp of 40 F and good chance of rain showers, possible winds to 40 Knots. The folks at the FSS said that I was the first this year to attempt camping here since it's been so rainy and cold.
- Tomorrow's entry shall be interesting...
- Sunset is at 10 PM with twilight lasting until 10:45 PT. I brought eye shades to sleep with.
- It's now 9 PM, getting cool already. Off to bed - or is that 'off to sleeping bag'?



From
To
Flight
Block
Airway
N. Miles
CYQR
CYXD
2+43
3+00
401
CYXD
CYXJ
2+08
2+28
310
Total for day
4+51
5+28
711
Total for trip
14+12
16+15
1984


June 6 - British Columbia to Yukon Territory

- It was not the greatest night for camping. Wind and rain started about midnight. The tent buffeted in the 30 knot winds and 5 degrees C was the low overnight.
- In the morning, dried out the tent and sleeping bag in the FBO. They had offered the pilot lounge to me overnight, but my Eagle Scout son probably would have frowned on me doing that...
- The weather for flying was the next problem. A Low pressure area was stationary over northeastern British Columbia, and a 500 foot overcast, rain and freezing levels near the Minimum IFR Enroute altitude made it a marginal situation.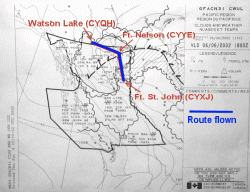 Click for larger weather map (105 KB)


- We watched another pilot depart VFR ahead of me. I, and some other pilots there were 'concerned' about that decision.
- I filed and departed IFR for Fort Nelson. The remaining pilots there were probably 'concerned' about my decision, but I planned to return if there was any question about the icing situation.
- Checking enroute, the Fort Nelson and Watson Lake weather was fairly good, so elected to continue and changed my destination to Watson Lake, overflying Ft. Nelson - never seeing it.
- For virtually all of the 2+20 flight was in solid Instrument conditions, except for a brief glimpse of The Highway just south of Fort Nelson. I found myself spending 75% of my scan on the Outside Air Temperature gauge, which hovered between +.6 and +1.4 degrees C. Moderate turbulence and rain for most of the last hour made the leg seem even longer, despite the 175 knot groundspeed.
- The Jeppesen chart for Canada LO 1&2 is on the scale of 1 inch equals 40 NM. Boy! the fixes sure take a long time to pass at this scale!
- 20 miles east of Watson Lake I "popped out" of the weather and literally breathed a sigh of relief. That was not an easy flight...
- From Watson Lake, flew VFR along airway V444, which generally criss-crossed The Highway.
- Landed at Whitehorse and set up camp for the night.
- Weather was crisp and relatively clear. The temperature was forecast to drop to 3 degrees C overnight.
- Felt relieved that the bad weather was behind me, and looked forward to a clear day to fly to Alaska tomorrow.
- About midnight, realized how it was silly to take up space and weight bringing a lantern for camping in the Yukon in the summer. Eyeshades allowed me to sleep in the light that was present almost all night.


From
To
Flight
Block
Airway
N. Miles
CYXJ
CYQH
2+20
2+35
364
CYQH
CYXY
1+28
1+31
192
Total for day
3+48
4+06
556
Total for trip
18+00
20+21
2540


June 7 - Yukon Territory to Alaska

- As forecast, it got quite cold overnight, but having the right gear made it a nice camping experience.
- Made a 'backpack' breakfast of scrambled eggs and bacon. Actually, quite good...
- Visited the tower prior to departure. Nice folks.
- Called US Customs at Northway and gave them my ETA.
- Started VFR, then picked up an IFR enroute and climbed to 12,000' where it was finally smooth.
- Seeing the scenic, snow-covered mountains of the St. Elias and Wrangell ranges to the southwest was very exciting. I was almost to Alaska!
- Passing 141 degrees west on the GPS, I let out a mild "whoop!"
- At Northway, Alaska, cleared US Customs, got lunch and visited the FSS. Filed IFR to Anchorage, Merrill field.
- It was a beautiful, scenic flight - flown at 12,000' on oxygen.
- Took several pictures over the Mentasta Mountains and of Mt. Sanford (16,237'!), and just awed at the glaciers and mountains passing under the wings.
- Saw Mt. McKinley to the distant northwest as I started descent into Anchorage.
- Came in over Point Noname and landed at 5:30 PM, Alaska Daylight time.
- It seems odd, after having flown to Anchorage numerous times in the cargo jet, that I'd be so excited to arrive this time. But those were at Mach point 85, and this time it was at Mach point 25. This time it was A LOT more fun, and it was in an airplane THAT I BUILT.
- What a rewarding, satisfying experience!


From
To
Flight
Block
Airway
N. Miles
CYXY
PAOR
1+39
1+49
247
PAOR
PAMR
1+47
1+57
268
Total for day
3+26
3+46
515
Total for trip
21+26
24+07
3055


June 8
- Family arrives on the airlines.
- OK, I did have a five day head-start...

June 12
- Mechanical failure! Preparing for a local flight with Mustang enthusiast and C-170 pilot Mike Ice, my seat back broke.
- We made a new bracket in the well-equipped shop where Mike works.
- I was very fortunate that this was the only mechanical glitch encountered on the entire 6,000 mile trip.
- Also noteworthy is that it was a "Certified Manufacturer's" part that failed - not one that I, or Mustang Aeronautics made....

June 13
- Local flight from Anchorage with Mike Ice - 1.2 hours.

June 14
- Anchorage to Mt. McKinley to Talkeetna to Anchorage with Matt H. - 2.2 hours.

June 15
- Anchorage to Mt. McKinley to Anchorage with Linda H. - 2.4 hours.
- Anchorage to Mt. McKinley to Anchorage with Tim H. - 1.9 hours.
- 7.7 Hours total of "local" flying not included in trip totals

June 16
- Father's Day - King Salmon fishing. Successful!
- Everyone in the family caught one.


June 19
Return Home - Alaska to British Columbia

- Family left Anchorage on the airlines. I departed Merrill Field ten minutes later. (They got home about two days ahead of me.)
- Filed for Northway, but carried the fuel to possibly continue to Whitehorse.
- Called CANPASS with an ETA for my flight to Whitehorse, in case I decided to change flight plans in flight and go non-stop, which I did.
- Encountered some light rime ice at 13,000' just as I crossed into Canadian airspace. The concern was I was non-radar, and out of radio contact, not able to reach Edmonton Center yet.
- A clearance was finally received to descend to 11,000', which got me out of the clouds and the ice.
- The smoke from fires near Fairbanks was obscuring the visibility throughout the Yukon and much of BC.
- Canadian Customs clearance at Whitehorse was incredibly fast. The officer walked out to the plane, and I handed him my passport and firearm permit without even getting out of my seat. He asked a couple of routine questions and said "Have a good day!" Nice.
- Flew VFR along The Highway for the first half of the next leg to Fort Nelson.
- The smoke and an overcast at about 7,000' (just 1,000' above some of the terrain), made the VFR flight a bit of a problem, requiring me to follow The Highway as far as Watson Lake.
- The smoke cleared up somewhat, and I flew the airway (away from The Highway) from Watson Lake to Fort Nelson.
- At Fort Nelson, set up camp for the night and spoke with a couple C-150 and Tri-Pacer pilots who had to turn back trying to go west-bound because of the 30 knot headwinds.
- This leg reaffirmed that this leg is the toughest, either VFR or IFR.
- Mosquitoes attacked me quite suddenly, and I frantically tried to find the "Alaska Perfume" (insect repellant) that was stored in the airplane SOMEWHERE!. -


From
To
Flight
Block
Airway
N. Miles
PAMR
CYXY
3+15
3+36
515
CYXY
CYYE
2+26
2+35
385
Total for day
5+41
6+11
900
Total return trip
5+41
6+11
900
Total for trip
27+07
30+18
3955


June 20 - British Columbia to Wyoming

- At 4:30 AM, heard the Cessna 150 pilots takeoff. They returned shortly thereafter, unable to make it to Watson Lake again because of headwinds.
- Departed IFR for Whitecourt, Alberta. At 11,000' was able to top the haze and turbulence.
- From Whitecourt, called US Customs at Great Falls, Montana with my ETA.
- Climbed to 13,000' to top the turbulence, clouds and smoke.
- It has become very apparent that a low-level, VFR flight to and from Alaska in a slower airplane would be quite uncomfortable. Very glad to be equipped with oxygen to find smooth air.
- Skies cleared in southern Alberta, and entering Montana visibility was over 100 miles.
- Saw a distinct change of property lines on the ground at the US / Canadian border passing the 49th parallel.
- Arrived at the Customs parking spot ten minutes after my ETA.
- One officer was intrigued by the paint on the plane, the other was quite serious and asked quite a few questions about the shotgun.
- Got an oxygen refill at Holman Aviation.
- Departed for Sheridan, Wyoming and Approach kept me away from two FedEx 727s that were inbound. (I used to fly those afternoon trips into GTF quite often.)
- Thunderstorms in southeastern Wyoming kept me from proceeding, so spent the night in Sheridan.
- A town with a definite feel of 'The Old West'.



From
To
Flight
Block
Airway
N. Miles
CYYE
CYZU
2+25
2+31
391
CYZU
KGTF
2+53
3+03
441
KGTF
KSHR
1+41
1+53
240
Total for day
6+59
7+27
1072
Total return trip
12+40
13+38
1972
Total for trip
34+06
37+45
5027


June 21 - Wyoming to Tennessee

- Flew from Sheridan to Longmont, Colorado; the tenth 'new' state for the Mustang on this trip and thirty-fourth in its four year life.
- The fires in Colorado had reduced the visibility, even above 13,000'.
- Visited with another Mustang builder, Tony Dean. Longmont will host the Rocky Mountain Regional EAA fly-in in one week. Wish I could stay...
- There were no favorable winds, but elected to try and go non-stop to Olive Branch, MS from there.
- Departed Longmont (near Denver) at 12:22 PM Mountain Time.
- Started at 11,000', then 'step-climbed' to 13,000' over Kansas and finally 15,000' entering Missouri.
- Average groundspeed was fairly low at around 140 knots, (TAS was 145 K), but fuel flow was a little less than 7 gallons per hour, giving me enough fuel to go on to Tallahassee, FL with a :30 reserve - an 8 1/2 hour endurance!
- It would be a bit hard to explain to the spouse why I'd over-flown Memphis and landed in Florida after such a trip, (is my oxygen running low ??!), so I landed in Memphis (actually, Olive Branch, MS) at 7:05 PM CDT. A non-stop flight of 5+43.
- Home.


From
To
Flight
Block
Airway
N. Miles
KSHR
2V2
2+06
2+15
296
2V2
KOLV
5+43
5+55
836
Total for day
7+49
8+10
1132
Total return trip
20+29
21+48
3104
Total for trip
plus 7.7 'local' flying
41+55
45+55
6159
Total Statute miles
7095
Total Kilometers
11,406


Conclusion

Flying to Alaska in an airplane that you have built is an accomplishment that gives tremendous satisfaction. It isn't, however, without some discomfort [turbulence], and certainly requires an investment time and money for preparation, equipment, charts, study, and getting the airplane in excellent mechanical condition.

The reward though, is seeing some of the most spectacular, beautiful scenery and wilderness on the continent, below those wings



THAT YOU BUILT!


Fly safely.

Rick Henry
June, 2002





Go to [ ALASKA Main ] [ FLIGHT to ALASKA ] [ MT. MCKINLEY ] [ Return home ] [ ROUTE ] [ EQUIPMENT ]


---
[ HOME PAGE ]
[ CONTACT ]