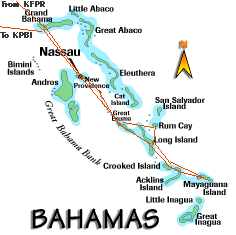 You went WHERE? in WHAT? for WHAT?
by Dave Stratton
e-mail: pinkfloyd51@centurytel.net

Mayaguana and Rum Cay, Bahamas
by Mustang II Experimental Airplane - June 22-25, 2001


[Ed. note: You will see that Dave is SERIOUS about license plates!]
Be sure to also see the accompanying Mayaguana and Rum Cay photos page

WARNING: Proper flight planning is required for long over water flights.
Attempting to fly this route or duplicate this trip would obviously be AT YOUR OWN RISK.

---
Imagine taking your passion, whatever it may be, combining it with someone elses passion and packing it into a four day adventure, the likes of which no one has ever done before. You'd be hard-pressed to think anyone has ever flown 3,500 miles in a homebuilt (experimental) single engine aircraft (1,100 miles over water!) to two of the most remote islands in the Bahamas...............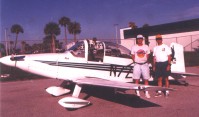 To collect license plates? Not Scuba diving, not beachcombing, not casino hopping, not sailing......
Dave Stratton (license plate collector), Rick Henry (commercial pilot, mechanic, aircraft builder) Shake well at 8,000 feet, add about 140 gallons of fuel, weave around a few dozen thunderstorms and that ought about do it.

Strange as it may seem, this trip was well thought out and planned accordingly. Knowing that Rick had spent 14 painstaking years assembling, modifying and testing his Bushby Mustang II aircraft, I never questioned it when the time came to commit to this odyssey. We needed a variety of things to go our way we when started out planning the trip.
(1) A mutual four day window to fly from Olive Branch, Mississippi to Mayaguana, Bahamas and back (not as easy as it sounds)
(2) Favorable weather....remember we only weigh about 1,800 pounds!
(3) Approval from the Bahamian Government to fly a homebuilt into their airspace (we're experimental and it's a foreign country down there). Paperwork moves at a slow pace. Thank goodness for fax machines, but the Bahamian Civil Aviation Department fax turned out to be inop.........go figure!
(4) Completion of this trip necessary before July when the tropical thunderstorm/hurricane season really gets going.
(5) Finally, the "green light" from our wives affectionately known as the "kitchen pass"
We found out in May how tough this would be. Obtaining approval from the Bahamian Government was a very slow, tedious process. We had a four day window (May 25-28) but had to abort when the fax approval did not return in time from Nassau. So we waited.......coordinating both Rick and my schedules would force a rescheduling to June 22-25. The extra month wait was worth it, however, as thunderstorms infested the South Florida coastline during the latter part of May which was our first choice of dates. Had we gone, the flight would have been an ugly ride, not to mention the number of mosquitoes that would have resulted from showers in the islands.
We had more time to plan our trip now. The loading of the aircraft is very important. The Mustang II is a cozy two seat "side by side" cockpit that resembles a Porsche 356 Speedster. Fortunately, it is summer so all we needed were shorts, t-shirts, shaving kit, towel, pair of jeans, about 25 CD's to play in Rick's CD player installed in the plane, two screwdrivers and a pair of vice grips for the license plates I hoped to encounter in the Bahamian Bush. We also had two sack lunches and four bottles of water. Now that's personal gear! Rick and I had to equip the aircraft with a full set of tools, extra AA batteries for the GPS, bug repellent, sun screen, first aid kit, flashlight, mirror, canopy cover and complete tie down kit when we parked the Mustang II.
Oh yes, I snuck in a soccer ball to give to the children of Mayaguana, plus five t-shirts to give out to the people we might meet down there. You really can't visit empty handed. Then my camera, six rolls of film and Rick's Digital Camera for all those aerial shots. I really didn't know how Rick jammed all that into the cockpit and storage area behind our seats, but he did. Plus one more thing......A full set of navigation charts covering just about every possible area you can imagine. This part blew me away! The continuous handling of the instrument, low altitude charts, visual charts, sectionals and Jeppesen airport charts, was quite amazing knowing our "office space" was extremely limited. Rick had installed an auto pilot to help free his hands for the endless fussing that goes on in the cockpit from handling the radios to adjusting the fuel transfer switches. However, we would learn right away the auto pilot was not going to cooperate about 30 minutes into the trip.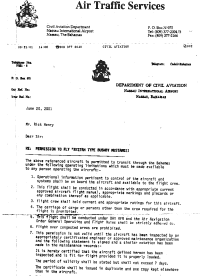 On June 21, Rick called to say we got final paperwork approval from Nassau following days of faxes and phone calls including followup phone calls. The next day we decided to depart Olive Branch at about 6:30 a.m. to get the best start possible. Our original plan was to get to Nassau via Dothan, Alabama and Fort Pierce, Florida. We would later change this original plan as we would find ourselves flying a "zig zag" course to avoid inclement weather which added flight time, thus delaying our arrival into Fort Pierce. But for starters, we arrived at Rick's Hangar and checked out the plane (N727RH). After packing it, rolling it out, and checking the weather radar, we settled in and were soon off for Dothan around daybreak.. We arrived in Dothan and fueled up ($2.65 a gallon) which would be the best price we'd see on the trip.

It would take a lot more maneuvering to get to Fort Pierce but five CD's later we would fly over the Daytona Motor Speedway, cruise by Cape Canaveral and roll up to the Fort Pierce ramp around 1:30 p.m. We ate a Maryland Crab Cake, topped off with fuel ($2.85 a gallon) and rented a life raft to go over the water to the Bahamas. Typically this was not required, but for $15. a day it was a solid investment for a $1,200 raft that we hoped not to use. We also had the required life vests but the raft resembled the size of a stadium seat cushion (16" x 16" in size before inflated). We were also on a tight schedule to make Nassau before customs would impose an overtime fee for late arrival after 5:00 p.m.
Rick checked the weather radar over the Bahamas and came back with our first serious decision point. A large mass of thunderstorm buildups were developing over the Southern Bahamas region certain to engulf the entire area very soon. We talked it over and agreed to call it a day in Fort Pierce to allow the nasty weather time to slide on by. It would turn out to be the right call. I decided to put on the 12 inch high numbers on the Mustang II for indentificiation purposes (N727RH) anyway, with the 3" black electric tape. They must be visible for identification since the Mustang II had small lettering. We tied the plane down and were off to the Radisson Hotel for an overnight. Tomorrow (June 23) we would fly to Nassau, clear customs and continue down to Mayaguana and overnight down there. Fort Pierce (Hutchinson Island) was a great layover point. Peaceful beach, friendly staff at the Radisson and no rush through customs meant we could relax in anticipation of an active day coming up.
We woke up early June 23 and got back out to the Fort Pierce airport at the "Airport Tiki" where the Mustang II was waiting for us. A beautiful morning and the radar showed smooth sailing for today's flight. Truly, a sound move all around. We departed about 9:00 a.m. and within an hour were approaching Freeport, then the Berry Islands and soon listening to Nassau approach control. Earlier, we listened to Miami Center talking to us about our flight plan taking us down to Mayaguana. We started feeling special when Miami Center said they never heard of an experimental aircraft going that far down out of U.S. Air Space. Sort of like heading into unchartered territory.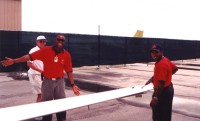 The Nassau FBO was most curious of the Mustang II when we rolled into our parking area. In fact we were well-received everywhere we went. Even the Nassau FBO (Exxon Avitat) smiled and shook their heads when we said we were going to Mayaguana. I really don't think many Bahamians go there (population 308), or Rum Cay (population 97). But we cleared customs, topped off with fuel since we would have to carry that fuel "down and back", since there's no fuel available in Mayaguana or Rum Cay. One thing we didn't take with us was a spare tire. We would later thank our lucky stars we didn't have to use one.

We departed Nassau and began a fun-filled journey down the Exuma chain of islands. We enjoyed listening to Exuma control and wondered how long it would be, once we left Miami Center, before we would arrive in Mayaguana. Rick's GPS would certainly answer that question. It worked great. We shot a lot of pictures, of lonely islands about the size of a grocery store back home, and white sand beaches as long as you could see. By tipping the wing, we got some prime shots. Once, it tipped so far I noticed a "con trail" coming off the right wing tip. I mentioned it to Rick and he was surprised to see that. What it turned out to be was overflow from the right wing tank vent. Since we were topped off with fuel it would spray out the end of the wing tip. We flew past the Exumas, over Long Island, Crooked Island and finally Acklins Island. After Acklins, all which was left was Plana Cay Island (uninhabited) and the West coast of Mayaguana.
We could see Pirate's Well below us as we broke over land. A small cloud formation sat over the island and we flew right beneath it to "wash the bugs off" as Rick put it. In a few minutes we were over the 7,700 foot runway and gave it a visual look. We could see three or four wrecked aircraft to the south of the runway and figured we were really on our own.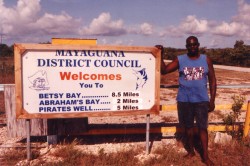 As per instructions from the "Pilot's Guide" Bahamas book, we cruised over the town of Abraham's Bay at about 1,000 feet and flew two circles around it then made an easy approach to Runway 24. We landed smoothly and taxied up to the "terminal". Three hand-painted signs saying "Welcome to Mayaguana" awaited us and no one within three miles in sight. It was hot and humid! We were officially in the tropics being around the 22nd parallel which put us south of the tropic line. Mosquitoes became quite evident and we would learn they are thick after the rains come. We jumped out and started getting our stuff off loaded. About 15 minutes later a blue Ford Pickup with Nassau plates on it arrived. The driver's name was "Hess" and he helped Rick tie down the Mustang II while I ran around taking photos all excited about the reality of what we'd accomplished.

I walked down to photograph the wrecked aircraft. First an old DC3, a DeHavilland Dove and a Cessna pushed into the bushes. Obviously, these planes weren't going anywhere. Engines cannibalized, and beaten by hurricanes, wind and searing heat, this was their final resting place.
"Hess" drove up with Rick and we were off to Abraham's Bay. I mentioned that we had come for a one day visit and hoped they got my phone messages about our arrival. Hess said they did and Leroy Joseph was fishing today but should be back very soon. He said we could stay at "Liney's Cabins" if we didn't have other arrangements. It seemed we might have been the only visitors to Mayaguana that day except for a couple of yachts we saw moored off shore. Still there were only two places to stay on the island and they were both in Abraham's Bay. It was very small with no creature comforts. The island commissioner (Ms. Bain) oversaw Mayaguana's activity from her office in the center of town. There was also a telephone office (BATELCO) a radio tower that the phone company used and a post office as well. We would get our passports stamped at the commissioner's office the next day (June 24). They had a small church, a one room school house and perhaps 50 houses in various states of condition scattered over about ten square miles of a harbor town. Hess took us to see "Liney" who ran one set of cabins and she said she would get an air-conditioned cabin ready for us. We then found Leroy who immediately recognized my voice, since we had talked on the phone a few times. It was about 2:00 p.m. and he said we would go out at 4:00 p.m. once we got rested and he would take us to the three wrecked vehicles in search of the very scarce Mayaguana license plates.
Rick and I paid the $85.00 fee for a one night's stay and she also asked us what we wanted to have for a snack and dinner. Liney ran the restaurant and disco behind her house adjacent to the bungalows. She fixed us fried chicken and said we would have a rice and conch (pronounced "conk") meal. The island was rich with conch shells, grouper, and margaret fish. Was it ever delicious! We got settled in the room and cleaned up. We would later learn the water disappears in our room as the tide goes out which lowers the well water on the island. Fortunately, all drinking water on Mayaguana is bottled so we knew we'd be okay. At 4:00 p.m. we met Leroy outside and walked about the town which was the size of a small shopping mall. Leroy pointed out a fig tree in front of our "hotel" and mango tree as well. He still couldn't get over my unusual hobby of collecting plates and said "I hope you brought some tools", which I most certainly did. I broke out the vice grips and two screwdriver's and they worked great.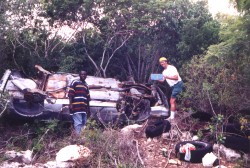 500 feet down the road we found our first wreck. It was an 80s model GM sedan and flipped upside down. Leroy pointed out both current Mayaguana plates on it. (Mayaguana #4!!!) A real prize on our first find! After a brief photo "op" we unscrewed both and were off to the next wreck. This one was another 100 feet pushed into the thick brush. A Ford Truck with another pair of current plates (Mayaguana #T19)....Off they came! We walked down to the harbor and picked two conch shells to take home as souvenirs and scoured the junkyard but no cars or trucks. I photo'd a few plates on working cars. Leroy said between snorkeling, scuba diving and drinking rum, there wasn't much happening on Mayaguana. The offices were closed but we asked the commissioner if we could get our passports stamped on Sunday morning (tomorrow) before we left. We were prepared to pay an overtime fee for this special consideration. Leroy remembered one more wreck across town and while walking past the church we could hear the band practicing for Sunday services. Since we planned to fly out at 9:00 a.m. we made a church contribution to Liney for missing the 11:00 a.m. service. Leroy found an old truck that had a 1992 Mayaguana "Landfall" plate still stuck on it that visiting divers could not pry loose as a souvenir. In minutes we liberated the T12 Plate that I would wind up giving to Rick for all his flying skills and sacrificing his plane for. Leroy walked us back to the bungalows and on the road I spotted an unusual church bus plate "MA 1". The bus was not working but I couldn't get the plate. It was too sacred.

Later I gave Leroy the soccer ball to make sure it went to the school for the kids to share. Hess, Leroy and a few others liked the T-shirts I brought for them. I found the people of Mayaguana to be very friendly, full of curiosity, and most of all family. This was one of the reasons the out islands are referred to as "Family Islands". Once they knew we were leaving the next morning all they wanted to know was "Are you coming back?" Something, you could only understand from island life I suppose. That night we chowed down on Liney's Conch Dinner and listened to her sad tale of losing her oldest daughter (age 45) to cancer. Liney, (age 61) with 14 children (7 boys 7 girls) 64 grandchildren and 16 great grandchildren spoke of a lifetime on Mayaguana, of the years when NASA used the island for a tracking station and the good and bad elements of developing Mayaguana for tourism. Whether or not it happens, the people we found seemed to be happy as the world sails and flies by them. While planes fly overhead to San Juan or the Virgin Islands, Mayaguana remains a 150 square mile island of untouched beauty.
Sadly, Rick and I didn't get a chance to see Betsy Bay or the North Coast Beaches as darkness set in and we found ourselves trying to flush out our stinky conch shells after watching the stars outside before the mosquitoes closed in on us. When we ran out of water to shower with, Liney sent us a large bucket of water and a smaller one to drink from. The large bucket got used right away by me to bathe with and by 10:00 p.m. we both turned in for the night. The wall air-conditioner struggled to keep air moving about the room.
At 7:00 a.m. we awoke after a restless night of little sleep. We got dressed and had breakfast. Boiled fish and rice!! Rick and I hustled back to the room to brush our teeth following the fish breakfast. We said our goodbyes and Hess picked us up to stop and get our passports stamped. After about 30 minutes of waiting and picking stickers out of our socks Hess got us back to the "airport", which was lightning quick for Bahamian time. Soon we were about ready to saddle up and leave. We found the plane patiently waiting for us, and shaking Hess' hand goodbye we took a photo of him and prayed the prop would turn over on startup. (It did!) Had it not we still had a power cable standing by which we could have jumped off the battery in the truck if necessary. Luckily we didn't need it. We taxed out to Runway 6 and as previously arranged, decided to buzz the town as everyone knew we were coming prior to the start of church services. On take off I looked down to see Hess's Ford Truck traveling down the same runway they used as a road as well. In minutes we were over the shoreline and made a direct pass over Abraham's Bay as Rick brought back the stick and we headed almost straight up in a steep climb. We figured the town had not seen something like that before.
Rick said, "Well...where to now?" This was amusing as we had been on a strict course via flight plans and ATC for two solid days. It was strange to be completely on our own now. Soon, we were over Acklin's Island and Rick proceeded to program the GPS once again. We had decided on giving Rum Cay a look-see.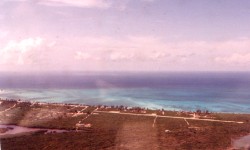 Although only a 2400 foot runway of crushed coral, dirt and weeds, (just 30 feet wide!) it seemed appropriate for "bush flying"., The GPS did not have Rum Cay programmed in it so I found the Bahamas AOPA book and Rick "hand-entered" the coordinates into the keypad. It was fascinating to see "MYRP" program into the GPS once the coordinates were entered and we started tracking our way towards Port Nelson. We thought we could sneak in one island and proceed to Nassau before making a return to the Florida Coast. The GPS stated Rum Cay was 33 minutes away. We passed over the harbor of Port Nelson and gave the runway a close look. We searched for the reported power lines at the end of the runway but could not find them. Perhaps they were blown down after the last hurricane?? After brief final checks, Rick said, ready to give it a shot? I replied, "Let's do it!" It turned out to be plenty of runway and was the shortest runway in the Mustang II's young life. Crossing the threshold, Rick guided it in nicely but forced the right wing down and it bounced the left gear a bit; the "arrival" was, shall we say, firm. Still we used only half the runway and rolled up to the "dirt ramp" where a pickup and a single engine aircraft were parked.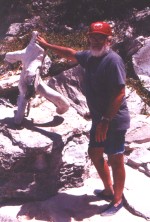 Shortly after, a "souped-up" electric golf cart came up with a curious grey bearded American named Don approached. He sounded glad to see us and commented on how few people (especially Americans) come to visit Rum Cay. He said he was here building houses for the owner of the island and was from Ringgold, Georgia. He was thrilled that we accepted his offer to drive us around while we only had about three hours to spare on Rum Cay. He said he had island fever since the tourist season was over and the island was empty. The roads did not extend far beyond the small town as in Mayaguana. Since it was Sunday the locals were in church. Rum Cay reportedly had only 70 Bahamians on it and perhaps 30 tourists year round. Don knew of a few wrecked cars or trucks and we were off to the dump right away. We rode in the electric cart which ran pretty good. It had oversized tires on it. We went by the "dive club" which was destroyed by hurricanes two years before and was never rebuilt. He said that once something gets destroyed, there usually isn't any money to rebuild it.

Don spoke of the difficulty in building with government paperwork, red tape and corruption being a nightmare. He was finishing up four houses while fighting Bahamian inspectors and trying to keep busy in this island paradise. He spoke of how the barge brings supplies and how expensive it was to set up. The houses were on stilts and the boat harbor had three yachts in it today. Last week there were a dozen yachts though. We shot more photos, toured a deserted beach and when we got to the junkyard we found a truck and pulled a Rum Cay 1992 (#10) off it. I think it was a Chevy Suburban.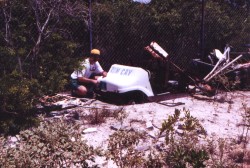 There were four or five wrecked vehicles but the diver's (again) had picked them clean for license plate souvenirs. Rick snoozed in the cart and Don and I worked on the #10 plate. It was frozen on with rusted bolts. The Suburban was buried under bushes and trees but we managed to get it off. Rum Cay is tougher than Mayaguana since it has fewer vehicles. For a while I figured this might be the only plate we would get off of Rum Cay today. Don drove by a power station one more time and I spotted three vehicles beind a building up against a fence line. We turned in and immediately noticed a Rum Cay #4 on an electric cart!! Jumping out of Don's golf cart, I ran over and it was screwed on with 4 bolts. We had it off in 5 minutes. Rick followed while Don and I got the plate off and he had found a Rum Cay #7 on another old car. What an amazing find! And not a minute too soon.

We hustled back to the runway only a half mile away and said our goodbyes to Don, while Rick got the Mustang II ready to go. We pushed it into position and just as we jumped into the cockpit another pilot showed up with two passengers and was getting into his plane to follow us down the dirt runway. Don had said a pilot was on the island most of the time available to take passengers to either Exuma or Nassau. Rick fired up the Mustang II and we rolled on out. Rick said (later) he didn't need all of the runway to get it in the air and Don mentioned some pilots fudged by using part of the grass shoulder of the 30 foot wide runway.... Rick took most of the center and we were airborne....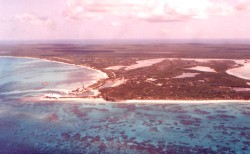 I shot several photos on takeoff as we climbed slowly. In three hours we got three Rum Cay plates!!!! Absolutely amazing!!! This had to be a plate collecting record of some sort. I gave the 1992 Rum Cay #10 to Rick to add to his growing Bahamian collection. Talk about starting off with the two toughest islands on your run towards all the islands........ Rick was going to put them up in his aircraft hangar back in Olive Branch to remember our adventure. By now, we were bushed, but pressing on to Nassau sounded like a good idea. This would figure to be a long day and by now it was nearly 3:00 p.m. The afternoon thunderstorms were coming for sure....
We relaxed by viewing more of the Exuma Island Chain heading north. In Nassau we cleared customs, fueled up again and were ready to make the "over-the-water" transit. We took off and immediately spotted the Berry Islands, Freeport and (hopefully) Fort Pierce. It became apparent that the Nassau departure controllers were quite busy as aircraft scrambled in and out of Nassau Air Space. Overhead Freeport we broke out some food that we got from the Nassau FBO and chowed down. Just after we cleared beyond Freeport we would learn that the weather radar was not cooperating as the thunderstorm buildups diverted us towards PBI (Palm Beach Airport). We headed into the busy Miami Center beehive of activity with plenty of fuel wondering what was ahead. Rick struggled with making the ATC folks understand how important it was we got the okay for customs clearance on arrival in a different airport other than Fort Pierce which we had arranged to return to. It all worked out and clearing customs in PBI was smooth although the storm was coming with a vengeance from the north.
The customs agents got a kick out of us returning from so distant an island and hustled us through knowing the storm was approaching. After we cleared customs we scrambled to get the Mustang II secured at a tie down ramp after some confusion at Galaxy Services (which had no tied downs) in favor of Signature Air which did. We never got approval to get the aircraft into the hangar but settled for buttoning it up and jumping into a vehicle provided for by a Signature ramp serviceman. We ran into the FBO just as the sky opened up with a giant rainstorm. We had to get the canopy cover on and it was a close call but all worked out great. Rick was concerned about reports of hail and, of course, damage to the airplane. Fortunately there was no damage and after a four hour period waiting out the weather to slide over us, we were able to file another flight plan to head north to Fort Pierce. We were treated to a very nice staff at Signature who did not charge us to have some of their coffee and cookies. They let us stay as long as we needed and we used their weather radar equipment to sort out the weather. We also called home to advise that we made it back into the states and cleared customs and would call back again from the hotel in Fort Pierce. It was obvious we would not get any further than there since we had to turn in the life raft in the morning. We arrived in Fort Pierce at sunset, tied down the Mustang II and called the Radisson to come pick us up. After two days we were back for another visit. By 10:00 p.m. we were having dinner following a well deserved shower. What a wild day!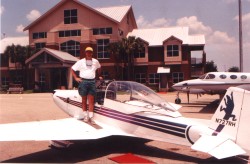 It was now Monday June 25 and we anxiously scurried back out to the Fort Pierce airport to get ready to head back home. We turned our life raft back in and fueled up. We decided to head back via Tallahassee instead of Dothan, Alabama so our flight plan took us across Florida over Disney World near Orlando. It was relatively uneventful compared to our excitement the day before with the thunderstorms. We worked our way north and arrived in Tallahassee by early afternoon. Again, the Mustang II got plenty of looks from the ramp personnel as we fueled up one more time for the long leg home to Olive Branch. We figured our arrival time around 4:30 p.m. so we called home to alert Linda and Jocelyne so they could plan on picking us up as we taxied in to Rick's Hangar. We got out of Tallahassee following a snack lunch in the breakroom. I believe we got out of there around 1:30 p.m. We had a nice daylight flight to contend with along with some patches of thunder clouds in Northern Alabama and near Holly Springs, Mississippi.
As we neared Olive Branch Rick got the Memphis Center to "okay" to make a fly-over near our new home just off Pleasant Hill Road where I could take a few photos from Rick's digital camera. He had about five shots left and he circled the Mustang II just over the house and I got three great-looking shots of the neighborhood. After that we made a direct approach towards the Olive Branch airport. The landing went great and we taxied straight towards the hangar area. There waiting for us were Linda and Jocelyne just as planned. They were surprised to see us survive the long flight and cramped conditions. But it was worth every minute!


More Mayaguana and Rum Cay photos
---
[ HOME PAGE ]
[ CONTACT ]